I want to speak about metrics: why it is important, when and where it is important to apply them. I will share my experience of implementation of collecting and analyzing metrics in the development and testing processes, experience in establishing of this process, and potential difficulties that may arise during the process. I think this topic will be helpful either for test leads, or for test engineers.
Anastasiia Kugach (Fedostceva)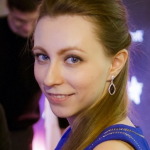 Senior test engineer, Reksoft
I was graduated from Saint-Petersburg State University, faculty of Applied Mathematics and Control Processes with specialist degree. I have been working as a test engineer since 2012. During my career, I have been working with different projects in banking area.