Vyacheslav Moskalenko
Luxoft
In Russian only, takes place during the main conference program
Attendance is free for the conference participants
It can be challenging to estimate a small project with well-documented requirements, mature team and familiar technologies . But how to ensure the reliability of estimates when the requirements don't contain enough details, the team has just formed and project requires new technology? It is possible. However, the classical approaches do not work well here, better option is to use agile approaches in order to estimate big project. Through the series of exercises, we will do some steps in the risky project lifecycle, in order to understand how agile planning and estimation is working.
In this practical workshop we will go through specific stages of the project estimation process using the following practices:
Decomposition of the requirements into smaller user stories
Estimation in relative story points
Facilitate the group using Affinity Estimation technique
How to measure Team Velocity
Release Roadmapping
Students will gain practical skills to use these techniques for their projects. They will explore how to overcome some typical problems that occur in agile estimation process.
During the workshop the following problems will be covered:
Psychology of the customer. Why does the customer want to get a quick estimates with minimal investment in writing detailed requirements? The nature of the rough estimates. We will pass a simple exercise that will enforce participants to put themselves into the customer shoes in order to understand them better;
Psychology of the developer. In order to get estimates, even approximate, without clear specifications, can be seemed as a fantastic deal. In fact everything is much simpler. Each of us has a creative mind and is able to compare the characteristics of the two objects ignoring some low level details. To overcome the psychological barriers, we just need to clearly explain what is required. Participants will be proposed to pass an exercise to understand what level of thinking we need to be in order to enable developers to make rough estimates;
How to convey to the customers the essence and value of relative estimations?
Why does it work? Often, the customer and developer does not have any experience in iterative and incremental development. We need to have specific and successful case studies, which will give some motivation to change. Several specific cases we will investigate from my practice. At the same time all participants will have the opportunity to ask questions, to compare its context to the context of those cases that we consider.
Decomposition of the project into smaller user stories.
How to facilitate an effective estimation? We will consider and try a technique called Affinity Estimation. As an example, we are going to take prepared Product Backlog and go through all the stages of the proposed facilitation techniques.
Is it possible to translate relative estimates into absolute numbers? This question is often asked by both customers and developers. We'll look what are the options to correlate relative estimates to absolute numbers. Consider options for predicting the speed, pessimistic and optimistic scenarios. Explore Fibonnachi scale and why it works better than the linear one.
Release Roadmap. This technique will provide your customers a transparent way to manage and control the project expectations. We will have an estimated Product Backlog as an example to see how it works.
Vyacheslav Moskalenko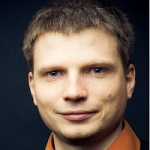 Agile Coach, Luxoft
As Professional Scrum Trainer at scrum.org Vyacheslav is focused to improve profession of the software development by delivering high quality trainings and education. During over 10 years of the software development practice, Vyacheslav tried different roles in organizations he was working for, and evloved as software development professional in many different ways. In combination with over 7 years experience in agile he is mainly focused on the effective cultural and process transformation into agile both on vendor and customer side.
Vyacheslav Moskalenko joined Luxoft as a Scrum Master in February 2010. From August 2011 he joined Luxoft Agile Practice team as an Agile Coach.
Vyacheslav holds certificates: Certified Scrum Master, Certified Scrum Professional, Professional Scrum Master I, Professional Scrum Expert, Certified ICP Instructor, Certified ICP-BVA Instructor