"The process – a way to make a success repeated" (Guy Kawasaki) Anyway, we all try to find a silver bullet. The approach (process) which will allow us to say with confidence – "We are doing everything right, success is inevitable." However, very often different processes, regardless of their popularity in different organizations fails. As part of the report will present experience and observation of the basic assumptions and laws that directly affect the success of the various processes. Context defines the business model, business model defines restrictions on the development process. As in the situation with design patterns, patterns of successful team building can be grouped into several Frameworks or library. Use one template confronts us is necessary or desirable to use other templates. In the report, we look at the key patterns "library" for customized, outsourcing, interior and product design software and example of application of the Conway law to the creation of large and complex system.
Dmitry Bezuglyy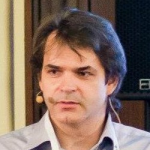 CEO, System Approach Ltd
About 25 years of experience of participation in projects for the creation and development of various systems and products.
Expert organizational consulting software development companies of the company "System Approach".
Areas of expertise:
Product and Project Management
Formation and development teams
Business and system analysis, requirements engineering
Develop a strategy using adopted Foresight facilitation (Products, Divisions, Companies …)