Do you like audits? Audits done for sake of formal certifications and conducted by people who are far from your project? Most of the time nobody likes them. In my presentation I'll share our experience how all projects in the Company can be controlled without auditing. I'll show you what can be done to make delivery status of all projects in a big organization with distributed development environment transparent up to the top management. I'll point what control mechanisms besides audits can be introduced to track delivery status and assess maturity in each project or program. And I'll explain how delivery itself can be involved into controlling themselves and getting benefits from it.
Elena Belyaeva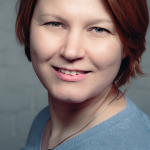 Global Quality Management System Head, Luxoft
Elena Belyaeva works as Quality Manager in Luxoft. She heads the activities related to organization Quality Management System maintenance, new process practices creation and deployment, process optimization through statistical analysis, she provides quality control and certification activities, metrics program coordination and conducts process related workshops.
Yelena has more than 15 years of experience in software quality management area having been working as Software Quality Engineer, Process Engineer and Business-process Manager in leading international and Russian IT companies. She received the MS degree in Physics science in 1996 from the St.-Petersburg Pedagogical University.