In my presentation I'll tell the story of University Relations Program Development at EMC Russia CoE. Since 2007 we've been working on our continuous talent development program from freshmen to masters which includes lectures, seminars, students' internships, joint students' research projects, support of talented first year students with grants and the external mentoring program. Apart from these programs' overview we'll share the experience on how to establish the collaboration with universities and what are the traits of today's students. We'll also discuss how collaboration with universities could help in employees' ideas realization.
Mikhail Salamatov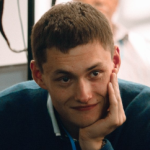 University Relations Program Manager, EMC
Being a university relations program manager at EMC Russia Center of Excellence Mikhail is responsible for collaboration with academia within the following areas: internships, joint students projects, grants for talented freshmen and research and development projects.
In 2011 Mikhail joined EMC as a university relations intern. In 2013-2014 Mikhail worked in EMC Academic Alliance being responsible for EMC courses delivery in universities of Russia & CIS.