I would like to talk about an opposition between scenarios and functions in my presentation. We'll talk about designer's role in the development. Who's right designers or developers? Is it really worth working together? Whether we need to sketch all the pages and system's forms or not? We'll discuss a real case of solving developer's problems with the help of design.
Roman Kvartalnov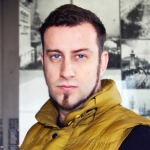 Founder and CEO, ZephyrLab
Graduated from Moscow Institute of Physics and Technology as a Physicist Engineer. Roman's a founder and an idea creator of the IT-company «ZephyrLab». He's responsible for the design conception development of highload portals and systems. He had been working as a head of design department in IT-holding «Armada» till 2013. Roman's sure that working discipline leads to success.