Usually one makes the server virtual by creating an individual virtual environment for each server copy. However, in some cases it is important to keep the classical server layout — with one OS and one main process, for which the significant adaptation of both OS and application is required. I will talk on the ways to do it in the modern Linux.
Vasiliy Tolstoy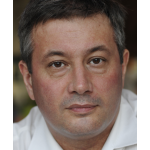 Principal Software Engineer, EMC, Russia COE
Vasiliy was born and lives in Saint-Petersburg, works for EMC since 2010. His current professional interests include Linux networking, virtualization, and SDN/NFV. He is also interested in UI design, OS design and hardware-level programming. He has 26 years of combined experience in software design, development, and system administration. He studied physics at the State Saint-Petersburg University.