We consider the architecture of cloud service by personalized recommendations 1C-Bitrix in Amazon Web Services. More detail on the technologies of big data: Apache Spark and algorithms MapReduce. Particular attention is paid to algorithms of recommendations and their practical application. We focus on the applications of the library Apache Mahout.
Aleksandr Serbul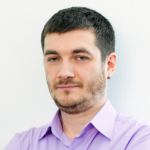 The Head of control and quality of integration and implementations, 1C-Bitrix
Aleksandr Serbul graduated Don State Technical University.
He worked as an Advisor in the Administration of the Russian President in the southern Federal district, in the South-Western Bank of Sberbank of Russia, a leading developer of web-Studio QSoft and head of the development Department of the company "Softline Internet trade".
In "1C-Bitrix" Aleksandr oversees the quality control integration and implementations, is actively involved as an architect and developer in projects related to high load and fault tolerance (Bitrix24), advises partners and customers on architecture of high-load solutions, the effective use of technology clustering products of "1C-Bitrix" in the context of modern cloud services (Amazon Web Services, etc.).
The expert of big data, software development, system analysis and design.
A regular speaker at industry conferences and seminars on Internet-related topics ("RIF+KIB", RIW, HighLoad, RIT++, CodeFest, FailOver Conference, etc.).