The talk is dedicated to analysis of opportunities for on-line data compression on block level. Linux disk subsystem will be discovered and possible point for compression injection will be identified, existing solutions will be discussed. Also, authors will provide their experience on design and implementation Linux block device with transparent on-line compression.
Kirill Krinkin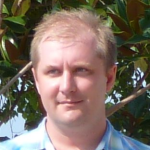 Adjunct Professor, SPbETU "LETI"
Kirill Krinkin, PhD in Software Engineering, Ajunct Professor in Department of Software Engineering and Computer Applications of Saint-Petersburg Electrotechnical University, teacher at Computer Science Center. Participant of Open Source motion, founder of Student Open Source and Linux Lab. Nowadays, he is active teacher for Operating Systems and Computer Achitecture, Linux and Windows programming, Qt/QtQuick courses. Research interests are virtualization, smart spaces, location-based services, algorithms for mobile robots and SLAM.
Nikolay Plokhoy
Student, SPbETU "LETI"