Big data meets image processing: friends or foes? In this presentation, we examine how the proper choice of big data tools and technologies helps deliver scalable imaging solutions that allow extraction of a variety of artifacts from medical images. We also explore the differences between traditional algorithms such as Markov's fields and convolutional neural networks (CNNs). The insights can be applied to image processing beyond medical imaging.
Konstantin Bychenkov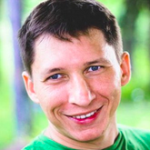 CEO, Aligned Research Group LLC
Konstantin graduated from Samara State University in 1997 with a graduate degree in mathematics. A seasoned IT executive with more than 20 years of experience, Konstantin delivered a variety of innovative software products and solutions focused on life sciences to U.S.-based and local customers. Konstantin interests include image processing, computer vision, and bioinformatics. Always connected, he continues to manage multiple projects even when enjoying wild nature with his son.
Artem Nikonorov
Chief Scientist, Aligned Research Group LLC
Artem completed his masters in Computer Science at Samara State Aerospace University in 2000, with a Ph.D. to follow in 2005. An accomplished researcher with more than 60 publications, two monographs, and multiple international conferences behind his belt, Artem is currently an associate professor at the Supercomputing Center of the Samara State Aerospace University Computer Science Department. His scientific interests include pattern recognition and image analysis, system identification, parallel and distributed programming, and massive parallelism of GPGPU-based solutions. An avid mountaineer, Artem uses summits to generate new scientific ideas.