To date, in our industry are very spread out a distorted understanding and an imitative applying of the User Stories technique, that leads to many problems in the development process, which I have to deal with as a coach. Most teams (78% according to the "State of Scrum" survey) use Stories as a "lightweight" requirements format completely ignoring the collaborative part of this technique or reducing this part to useless (and often harmful) minimum. If you want to understand the real essence and purpose of this technique, I invite you to participate in a half-hour thought experiment: writing one of the most famous Russian bylina (epic poem) "Three trips of Ilya Muromets" using Gherkin language. We will go through all stages of the life cycle of a Story in a BDD/Scrum process ‒ from the creation of the card to the adaptation after the first delivery to "users".
Vadim Mustyatsa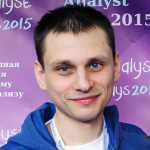 Agile Coach, Itransition
Practitioner Agile Analyst, trainer and coach.
Certified ScrumMaster (CSM) and Certified Scrum Product Owner (CSPO). Certified Scrum Professional (CSP) candidate.
Over 8 years of professional experience in the IT sector, the last 3 of which were mainly involved in Agile Software Development projects, gaining more than 5 000 hours of pure practice.
Current field of activity outside the main work in Itransition company – open BDD volunteer projects within #NoBA (Not only business analysis) initiative, which attracted analysts, developers and QA engineers interested in the application of industry best practices to achieve socially useful purposes.
Active speaker at conferences about System Analysis and Agile Software Development.