I'll talk about about comparison and selection of mobile test automation solutions. The talk is based on 3 case studies: 1) development of cross-platform mobile app; 2) mobile site adoption; 3) automation of Android app regression testing with limited time and resources. All main types of commerce mobile developement (native, hybrid apps and mobile web) are covered in the talk, and main focus is on cross-platform testing. The talk is based on my own experience and I hope it will help you to save time while choosing mobile automation solution in your project / organization. The list of compared tools includes: Appium, Bot-Bot, Calabash, Frank, fMBT, ios-driver, KIF, MonkeyTalk, Robotium, Selendroid, Windows Phone Web Driver, Winium, UI Automator, UI Automation.
Dmitry Cheremushkin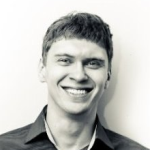 QA Lead, Grid Dynamics
I believe Software Quality Assurance is intended to make end-users more productive and happier. And also more complicated task means it's more curious to solve it.
SQA automation: 7+ years
SQA management: 2 years
SQA consulting: 1+ years