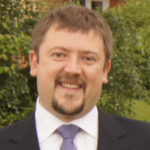 General Manager
IBM Science and Technology Center, Russia
Sergey Dmitriev is General Manager of IBM Science and Technology Center (STC), Russia. STC was established in 2006 in Moscow and is now playing a vital role in developing a number of IBM products and solutions in close collaboration with other IBM labs. STC employees are working on local projects in Russia in such areas as Cloud, Smart Analytics and Mobile, which are in line with IBM's big five initiatives: Cloud, Analytics, Mobile, Social and Security. Prior to taking over the GM role, Sergey managed a number of STC projects in both middleware and systems software development areas. He took an active part in developing STC leadership team and setting up new projects in the lab. Sergey also drove on the local level integration of several companies acquired by IBM. Sergey joined the IT industry in 1995 while completing his BSc and MSc at Voronezh State University. He holds a Master's degree in Physics and an MBA from Warwick University (UK).
Can cloud system be smart? Watson services for developers.
The specific design aspects of the modern distributed systems will be presented, including usage of the cloud services. The analysis of a number of existing approaches will be done on examples. The cognitive computing will be discussed in dedicated topic. The practical recommendation will be given for IBM Watson services usage for cloud applications design and implementation.