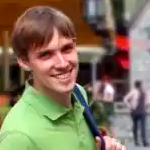 Founder, Stepic
Director, Bioinformatics Institute
Nikolay graduated Saint-Petersburg State University, specializing in system programming. He is actively involved in educational projects: Nikolay is (co-)founder of GameChangers, Bioinformatics Institute, Rosalind, and Stepic — non-commercial project to create online constructor and platform for free lessons and courses. Stepic's testing system is currently used on several of Coursera's courses. Its' platform is also used for programming 101 courses of Computer Science Center.
Online IT Education
Download presentation
Online IT-education
Is it possible to learn programming online? Is it possible to became a good developer by learning to program online?
In recent years a number of startups dedicated to educational training in programming and computer science significantly increased. The reasons for this are the high demand for technical specialists in the labour market, the relative ease of automation and scalability of knowledge tests in mathematics and programming, as well as the developers' tendency to create projects for developers.
This talk is about our experience and results of the Massive Open Online Courses built on the Stepic.org platform, about practices and prospects of this trend, and some other projects in the field of teaching programming.