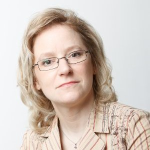 Director of Risk and Market Data, Deutsche Bank TechCentre
Jennifer Trelewicz is the Director of Risk and Market Data in Deutsche Bank TechCentre, LtD. Previously she held the roles of Head of the Expert Councils in the Skolkovo Foundation, Deputy CTO of social products in Mail.Ru, CTO of Google-Russia, and Director of the IBM Systems and Technology Laboratory in Moscow. Jennifer actively participates in professional activities, holding the post of President of the IEEE Technology and Engineering Management Society. She received her Doctor's degree in Signal Processing from Arizona State University, as well as a Master's degree in Mathematical Analysis. Jennifer has a number of publications in international refereed journals and conference proceedings, as well as 28 granted patents.
The role of IT in calculating xVA and derivatives credit risk
The global crisis of 2008 had a strong impact on both the regulatory and market landscapes, while counterparty risk management became the responsibility of the front office. Aligning technical and operational goals is needed, but this is a step function for some organizations. An integrated approach to system architecture can significantly help solve the problem. I propose that the ability to handle technical problems will become a competitive differentiator for large brokers and dealers and have impact on the cost of trades and hedging for all market participants.