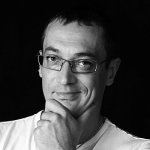 General director, Intel Software
Since 2012 Igor Kaloshin takes position of General Director of "Intel Software" LLC that is resident of Skolkovo Innovation Center. His area of responsibility and professional interests include government relations and collaborations with innovation development institutes and IT ecosystem in Russia.
In 1996 Igor graduated from Mathematics & Mechanics faculty of St Petersburg State University with MS degree in Mathematics, chair of Statistical Simulation. From year 1996 till 1999 continued post graduate education at the same chair.
Igor has begun his information technology career in 1999 with position of quality assurance engineer for compact Java virtual machine at ZAO "Elbrus-MCST" and in two month has been promoted to manager position of the QA team. Late 2002 he become general manager of St. Petersburg branch of ZAO "Elbrus-MCST".
In 2004 Igor joined Intel in position of general manager of Intel R&D center in St Petersburg. Since 2007 till 2012 he held position of Russia Operations Director at Intel where his major responsibilities included building and maintenance of effective coordination of business processes across the country such as enabling of stable infrastructure and efficient environment for productive business operation of all employees. Igor is actively participating in business community activities devoted to forming of favorable climate for IT Industry growth in Russia. From 2009 till 2011 he was co-chair of IT committee at St Petersburg chapter of American Chamber of Commerce and was awarded with 'Committee of the Year 2011' diploma. Since 2011 he is member of RUSSOFT board and since 2010 till 2012 was member of executive committee at AmCham in St Petersburg.
Igor is actively engaged into cooperation with technological IT startups on early development stages. He is member of Skolkovo business angels club and Venture Club. He is mentor and investor of about ten growing startups.
Internet of Things and the Magic of Big Data
I like positioning of Internet of Things (IoT) as new emerging force driven by Information Technologies that dramatically transform competitive landscape for nearly every industry. Michael E. Porter and James E. Heppelmann described such concept in large in Harvard Business Review. I will try to utilize their materials as well as strong Intel's experience in IoT space further in the keynote.
The evolution of smart connected devices starts from simple stages of Monitoring and Control to more complex stages of collecting and analyzing data flow from thousands of such connected that gives us opportunity for Optimization and even Autonomy. Example of Monitoring is smart thermometer that is able to send temperature data over the network. Control stage adds additional functionality that implies some action based triggered by certain data from sensors. For example turning coffee machine on in certain time interval after user awaken. Such approach implies more complex network infrastructure and communication logic between devices for example between coffee machine and smart watch. Similar solutions will be developed and improved over time being even attractive from investments point of view but from my perspective the most significant economical effect can be achieved by next stages where we use magic force of big data analytics.
Optimization stages implies analysis of rich data flow from big set of connected sensors and intelligent infrastructure for process operations control. This allows companies to optimize processes in numerous ways that was not possible before. Let's take UBER as an example where, thanks to strong big data analytics, the company dramatically transformed long existent and seemed as rock-solid taxi industry all over the world. In Russia we more aware of similar services as Yandex.taxi and Gettaxi, but for me the best model of IoT concept implementation would is truly UBER and I will explain why.
The goal of this keynote is to demonstrate on industry examples how big data analytics amplifies end customer value and fuels new breakthrough solutions. Or saying it another wards how quality combination of smart connected devices and thoughtful data analytics already transforming traditional industries.