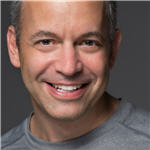 Co-founder and President
Goldsmith Organization
David Goldsmith is Co-founder and President of New York, Hong Kong based Goldsmith Organization, and Buzd, LLC a San Francisco based patent development company, award-winning author of Paid to THINK, engaging keynote speaker, patent holding inventor, former 12-year professor at New York University, serial entrepreneur, advisor to tech startups, and groundbreaking business thought leader.
Mr. Goldsmith, touted by experts as the Deming and Drucker of our time, is a leading authority on strategy, innovation, and forecasting. Mr. Goldsmith has received a number of prestigious awards for his professional and community achievements such as The Citizens Foundation Central New York Entrepreneur of the Year and the Central New York 40 under 40 Leadership Award. His contributions have placed him on the Board of Directors of a number of community oriented organizations and his accomplishments have appeared in media around the world, including Bloomberg Media, the Japanese version of Entrepreneur Magazine, and the Financial Times.
The demand for Mr. Goldsmith's insights and rapid ability to transform organizations takes him 300,000 miles around the globe each year to advise CXOs on how to create opportunities and innovatively drive business. Clients include profits (including FTSE 100 and Fortune 500 companies), and not-for-profit, government, military and educational organizations.
One of the projects Mr. Goldsmith is currently leading is to advance human space exploration with NASA.
Operating from Your Greatest Position of Strength as a Leader in Today's World
Whether you lead and manage within a strictly Russian-focused organization or one that has a presence in different parts of the world, you are tasked with coordinating a vast array of daily responsibilities all while driving your organization's people and resources toward the orchestrated achievement of strategic objectives. Juggling all of these components so that your organization is competitively strong is no small feat, especially when your industry and the world around it are in a constant state of exciting, challenging, and rapid change!
Whether your focus is on hiring highly skilled programmers or top-notch managers, overseeing exciting projects to their on-time/on-budget conclusions, overcoming social barriers to breaking into new geographic markets, or simply balancing your work and life, you need specific skills, tools, and knowledge to steer your organizational ship to desired outcomes. Presenter David Goldsmith, author of Paid to THINK, has designed this program to address the current needs of today's Russian leader so that you will acquire new tools and build upon your present leadership strengths so that you can achieve more, earn more, and live more.