Code Review – is not only a valuable page code, but also a great contribution to the emotional bank your team. What this contribution will, + or – to choose you. In the presentation we will look at practical experience of using different approaches to audit the code and you can find new methods of how to use the inspection can be increased teamwork.
Artem Kolomeec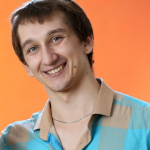 Developer, Kaspersky Lab
Developer & scrum master at Kaspersky Lab.
I think that in our time, the professional developer is primarily a team player, and then a specialist class.
Speaks at conference Go# ASP.NET Day 2015