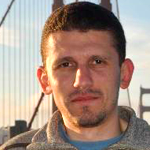 Development Architect, SAP Labs Bulgaria
Software Development Architect with the SAP Cloud Platform team.
15+ years of experience with enterprise architectures, distributed systems, middleware, messaging, persistence technologies, etc.
Current activities in the area of Java EE, Application Programming Models, Cloud, Dev Tools.
Member of the Java EE 6 Expert Group.
Speaker at international and regional conferences, like JavaOne, EclipseCon, SAP TechEd, SAP CodeJams, Eclipse DemoCamps, Java2Days.
Debugging and Profiling Cloud Apps? Sure, you can do it now!
There are many great tools available for debugging and profiling Java apps. There is however one big problem with all of them when it comes to debugging and profiling apps in the cloud: because of the very verbose Java Debug Wire Protocol (JDWP) and the high latency naturally associated with cloud networks (and WAN in general), their performance makes them practically unusable in such scenarios. This session will showcase a solution to the above problem provided by SAP HANA Cloud Platform (HCP) and its accompanying tools. We shall first develop and deploy a Java app on HCP. Then we shall demonstrate a unique innovative feature that allows debugging and profiling in the cloud with the performance and user experience you are used to from local/LAN scenarios. The session will be composed of live demos exclusively (and maybe a title slide 😉 ).