On July, 27 CEE-SECR 2015 Call for Speakers was closed. We received more than 150 talk proposals. The program committee is now starting review and selection process to choose the best of them for the conference program.
Abstracts and speakers profiles are published. Vote for the most interesting submissions, comment and ask questions. We appreciate your feedback.
The most popular topics for this year are the traditional CEE-SECR topics. Among them:
Programming technologies and tools – 11.4% of applications;
Project and product management – 10.5% of applications;
Software architecture – 7.6%;
Software testing, verification and analysis – 7.5%.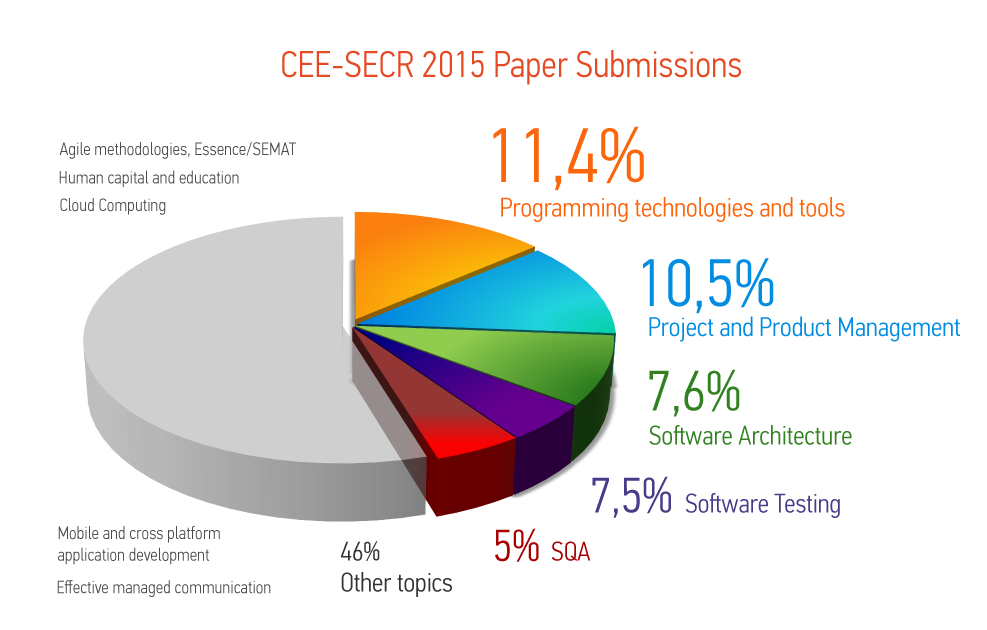 Among IT Trends topics the largest number of proposals were submitted on "Mobile and cross platform application development" and "Effective managed communication".
The leading domain (our third group of topics) is the financial industry and applications for banks.
The final decision will be announced on August, 31. Speakers, whose works will be selected, participate for free. Scientific papers will be published in the prestigious ACM Digital Library. And the best academic works in the field of software engineering will take part in competition for the Bertrand Meyer award (from 5 to 25 thousand rubles).
Early-bird registration at the special price is open until the end of August. Additional discounts are available for students, groups (3+) and RUSSOFT members.